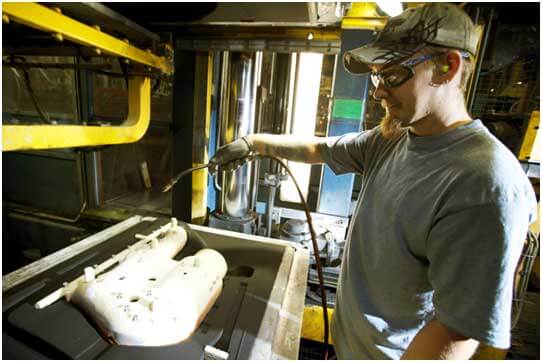 100 YEARS AGO, the production of castings was done totally by hand. Making the molds, pouring the iron, removing the sand and grinding the finished piece.
Today, Benton Foundry still relies on more than 250 skilled men and women to produce our high-quality products; however, they now work in a fully-automated facility, with some of the industry's leading-edge technology.
This 225,000 square foot facility is capable of melting 300 tons per day with four medium frequency furnaces. Our six molding machines include two DISA Match 130's and a DISA Match 2832. Both of these molding machine platforms were the first in the world and co-designed by Benton and DISA. Six robotic grinding cells and an in-house-developed, customized and fully-integrated production planning software package are just a few of the reasons that Benton Foundry is leading the way into the 21st century.